ABOUT LASER CLAY PIGEON SHOOTING
Lasershoot clay pigeon shooting can be played virtually anywhere there is an open space.
We use charter vessels, resorts, wineries, convention centres (outdoors) and golf courses to mention a few.
Lasershoot can accommodate any size group. We've catered to groups from five to 500 clay pigeon shooting players without difficulty.
A maximum of five clay pigeon shooters can play at any one time. Clay Pigeon Shooting Tournaments can be modified to suit beginners or experts.
If you would like further information or would like to book your next clay pigeon shooting event with Lasershoot, please send us your requirements by contacting Lasershoot Clay Pigeon Shooting to
discuss your groups individual needs.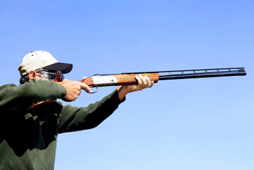 Safe, Fun, and Interactive Lasershoot is ideal for :-